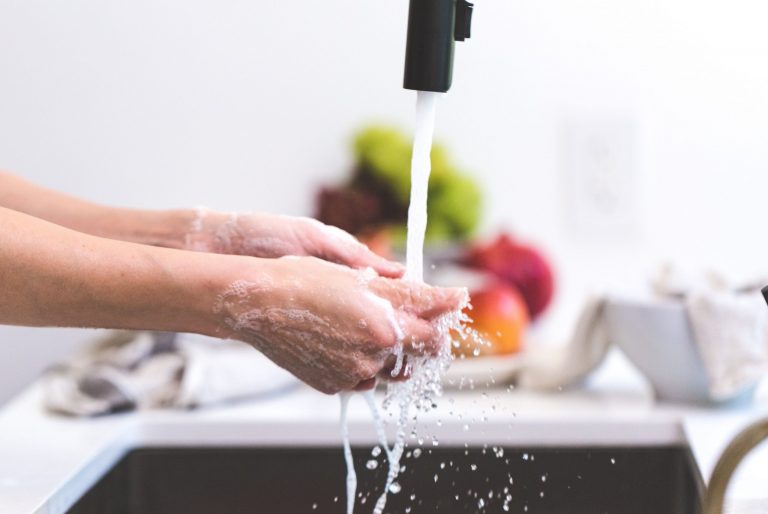 FROM OUR SHUL PRESIDENT, RABBI and EXECUTIVE DIRECTOR
Since March of this year, Shaare Tefila, like many communities, has dealt with the Coronavirus pandemic. Saying this has been a challenge would be an understatement; however, it is a challenge that our community has taken head on. With Zoom services, Virtual Comedy Nights, Chavurot and Sisterhood remotely, and High Holy Days from home, Shaare Tefila has continued to answer the needs of its congregants.
The Shaare Tefila Reopening Committee continues to affirm the foundational Jewish principle that our health and well-being override all other Jewish values, including public prayer. In Hebrew this is known as "piku'ach nefesh" – the saving of life. Therefore, our policy during this COVID-19 health crisis has been to conduct programs and services exclusively online. When we have been in person (e.g. B'nai Mitzvah services on Shabbat, gathering to hear the shofar, gathering to light Hanukkah candles), we have done so well within the limits allowed for religious institutions by Montgomery County.
The current rise in Montgomery County in the numbers of those testing positive for COVID-19, and the alarming rise of deaths in our county, further enforce the need to maintain our strict policy. We know that other synagogues in our area are allowing small groups in their buildings for live services, and we know that the US Supreme Court recently ruled that the "state" cannot enforce rules on religious institutions. Despite that we feel we need to continue to pray and gather on-line. Your life is just too precious for us!
We pray for the speedy disbursal of the new vaccines so that we can gather again in our building. "Ken yehi ratzon" – so may our prayer be answered. In the meantime, please stay safe and healthy.
Perry Sandler
President
Jonah Layman
Rabbi
Jonathan Cohen
Executive Director
Regarding Shabbat Services: From now until the public health environment improves, we will ZOOM the Friday evening and Saturday morning services; the ZOOM will also be livestreamed so you can choose to access our service that way too. 
Cantor Adina and I will broadcast from our homes. Members of the community will be able to participate by reading Torah (from the chumash), chanting the haftorah and reading other prayers. My Torah teaching can now be interactive. We can even stay after the service to schmooze as we would if we were in shul at kiddish. Participants will also be able to call in if they don't have access to a computer or are unfamiliar with the technology.
If you would like assistance in learning how to use ZOOM please email me.
The service will still be shorter than usual. Though we will be able to recite more sections that can only be recited with a minyan, we still won't be taking the Torah from the ark. Our Shabbat morning service will begin at 9:30 and conclude by 11:15. The Friday evening service will include mincha, kabbalat Shabbat and ma'ariv and will begin at 6, concluding by 6:45.
If you would like to volunteer to help me co-host the ZOOM service (by helping me admit attendees, muting & unmuting, etc.) PLEASE email me. That will be a tremendous help.
I look forward to sharing a different kind of High Holiday season with you this year and continuing to "see" you at Shabbat services. Please use this link for Friday & Saturday morning services:
ZOOM Shabbat
As always if you have any questions about this please don't hesitate to be in touch.
Stay safe and healthy,
Rabbi Jonah Layman
SHABBAT SERVICES
Fridays at 6pm  ZOOM – WATCH
Shabbat mornings at 9:30am   ZOOM –WATCH
You can follow along with these downloads of the services from our prayer book:
Friday evening prayers
Shabbat morning prayers
WEEKDAY SERVICES
JOIN US FOR EVENING MINYAN at 7:30pm on Mondays and Wednesdays and Saturday night for havdalah.  ZOOM Evening Service and Havdalah
On other weekday evenings – Sundays, Tuesdays and Thursdays – you can join Rabbi Steven Abraham's (son of our own Wendy & Richard Abraham) shul in Omaha, NE for their daily evening service – by joining them you help them ensure a minyan too. They meet at 6:30pm eastern time – you can join here
JOIN US FOR MORNING MINYAN –  Sundays, Mondays and Thursdays at 8:45am  ZOOM MORNING MINYAN
Here are the pdfs for the evening and morning services:
Weekday Morning prayers and Torah readings
Weekday afternoon prayers
Weekday evening prayers
HANUKKAH PROGRAMS
December 6, 10 am-12 pm, Storytelling Workshop for Adults, Chanukah Program Part 1: Join Master Storytellers Renée Brachfeld & Mark Novak for an engaging, fun experience! Find details and register here.
Everyone has a story, and we would love to hear yours. Come join with other adults from the Shaare Tefila community for this fast paced, participatory workshop. Mark and Renée are great at creating a safe and supportive environment in which to identify and develop personal narrative. Warning: This Workshop is a lot of fun!
In this time when it is so hard to connect with others, this workshop is a wonderful way to make new connections within our community.
December 6, 12-3 pm, Chanukah Gift Bag pick up: Shaare Tefila has gifts for your family including a special one for all children! RSVP by December 3 and let us know if you will pick up or need delivery.
December 10, 5-6pm First night of Hanukkah Happy Hour and candle lighting – join together virtually to schmooze and to light the candles at 5:30pm. Click here for the ZOOM link.
December 12, 5:30-6pm – 3rd night of Hanukkah – evening service, havdalah and candle lighting. Click here for the ZOOM link. 
December 13, 5-6pm, Fourth night of Hanukkah – Entertainers extraordinaire Renée Brachfeld and Mark Novak will lead the community in singalong songs, stories, sharing of chanukiot and other decorations, and many more surprises! Join the Shaare Tefila community for all the fun! Click here to register for this free virtual event.
December 14, 15 & 16 – 5th, 6th and 7th nights of Hanukkah – 5:30-6pm – virtual candle lighting – click here for the ZOOM link
DON'T FORGET THESE ONGOING CLASSES & PROGRAMS
Check In and Torah Study – Portion of the Week: Wednesday Mornings – 11-Noon
Talmud Class: Sunday mornings 9:30-10:30 
Prayer Book Hebrew: Sunday mornings 10:30-11:30 
Torah Class – verse by verse with English translations of Rabbinic commentaries – Friday mornings – 9:30-10:30 
Service of Thanksgiving – click here for the powerpoint of the program that was held on Tuesday evening Nov. 24 and click here for the recording of this meaningful service.
Hidden Histories and Untold Stories – A Shaare Tefila Sponsored JTS Lecture Series
Tuesdays at 8 PM ET 
JTS Registration Link – use code OlneyFall20
Join JTS scholars as they uncover the hidden context around biblical figures and important eras in Jewish history.
· 12/1: Dr. Sarah Wolf on how foreign the beit midrash would feel to the early Rabbis
· 12/8: Dr. Amy Kalmanofsky on what the Bible really had against Jezebel
Resilience in the Bible (co sponsored by Shaare Tefila, Bnai Shalom of Olney & Tikvat Israel) – Mondays December 7, 14 & 21 – 10-11:30am – FREE
In this course, we will read closely three great stories of biblical resilience, each offering a different model of how to persevere. Starting with Saul's search for redemption, we will make sense of the relation between resilience and desperation. But resilience is not always a desperate act. In reading David's lament over Saul and Jonathan, we will explore how loss might allow for the opportunity for growth. In our last class, we will challenge ourselves to find resilience even in the rape of Tamar, as we consider what these models might call us to do in our own lives. Classes are conducted beit midrash style, including time for you and a hevruta (learning partner) to study the text together. Click here for the ZOOM link.
Bio
Bex Stern Rosenblatt is a faculty member at The Conservative Yeshiva in Jerusalem. This year, Bex is serving as North American Faculty-in-Residence for The Conservative Yeshiva, bringing Beit Midrash learning to universities, synagogues, and institutions. Bex has studied at Williams College, Bar Ilan University, University of Regensburg, The Conservative Yeshiva, and Bina Jerusalem, and received a Fulbright to teach in Austria. Her writing on Biblical narrative and Biblical poetry can be found in Mosaic Magazine.
PURCHASE YOUR OWN PRAYER BOOKS
My rabbinic organization has generously offered our prayer books at a steep discount. Click on the links to order:
Shabbat – Siddur Lev Shalem
Weekdays – Sim Shalom
Chumash (Torah) – Etz Hayim
Stay safe, Rabbi Jonah Layman