Events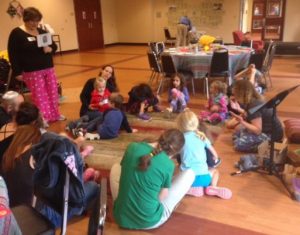 FAMILY PROGRAMMING
Mini-Minyan – Next Date: 3/29, Register by March 26 on ChaverWeb
5:45-7:00 pm
Come in your pajamas and enjoy the beginning of Shabbat with a program for families of children ages 0-7! Enjoy dinner and fun activities for Shabbat, led by Morah Mara & Morah Babette. We promise you will have an evening filled with ruach!
Tot Shabbat – 10:45 am, Next Date: 5/18
A fun, music-filled service for families with little ones (0-6yrs), the same morning as the Family Shabbat Service, in the Grosberg-Baumgart Chapel. Join Morah Mara for the next Tot Shabbat.
Gan Katan
9:45 – Next Date: 3/10, FREE – Playtime, Story time, and crafts- teaching Jewish Values! Led by Morah Mara Lansky. Shaare Tefila's Pre-school Playgroup for preschoolers ages 2-5 and their parents or grandparents.
Family Shabbat Service – 10:15 am, Next Date: 5/18
Join Rabbi Layman, Hazzan Adina and Morah Babette for a service led by the children of the Chavaya Religious School. We offer a family friendly, camp-style Shabbat service using Siddur Shema Yisrael. Enjoy a ruach/spirited Shabbat experience!
Youth Groups
Bonim (K-2nd Grades)
Contact Babette to find out about our next event!
Machar (3rd-5th Grades)
Contact Babette to find out about our next event!
Kadima (6th-8th Grades) & USY (9th-12th Grades)
FUN FOR EVERYONE
TGI Shabbat Dinner
Join us for a delicious, relaxing dinner immediately following the evening service. Shmooze with your Shaare Tefila community and let us do the cooking! Next date: 4/12
Purim Carnival – March 17th – The festivities begin at 10:45 am with a concert by the University of Maryland's Mezumenet A Capella. Fun, food and games will follow at the Carnival, ending at 1 pm.