Events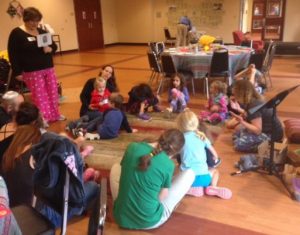 Family
Mini-Minyan – Next Date: 1/11
5:45-7:00 pm
Come in your pajamas and enjoy the beginning of Shabbat with a program for families of children ages 0-7! Enjoy dinner and fun activities for Shabbat, led by Morah Mara & Morah Babette. We promise you will have an evening filled with ruach!
Tots
Tot Shabbat
A fun, music-filled service for families with little ones (0-6yrs), once a month in the Grosberg-Baumgart Chapel at 10:45am. Join Morah Mara for the next Tot Shabbat- Next Date: 2/23
Gan Katan
Playtime, Story time, and crafts- teaching Jewish Values! Led by Morah Mara Lansky. Shaare Tefila's Pre-school Playgroup for preschoolers ages 2-5 and their parents or grandparents- Next Date: 1/6
Youth Groups
Bonim (K-2nd Grades)
Contact Babette to find out about our next event!
Machar (3rd-5th Grades)
Contact Babette to find out about our next event!
Kadima (6th-8th Grades) & USY (9th-12th Grades)
Registration is NOW OPEN for the Seaboard USY and Kadima Basketball season 2019!!!
There are separate leagues for USY teams (9
th
-12th graders) and
Kadima
teams (6
th
-8
th
grades), and teams are coed.
Games begin Sunday night, January 6th
and continue on most Sunday evenings through the end of March. All regular season games are played at Frost Middle School in Rockville. Between play time, stoppage time and halftime, each game will run about one hour.
Kadima
(middle school) games will start at the 4:30pm, 5:30pm, and 6:30pm slots and USY (high school) games will start at the 6:30pm, 7:30pm, and 8:30pm slots.
Most teams are by synagogue but your synagogue does NOT need its own team for you to participate!!
Step 1: Contact Babette to reserve a spot on a team.
Step 2: Once you have reserved a spot on a team and have made sure you are a paid member of USY/

Kadima

, log onto http://www.regpacks.com/Seaboard1819/ to register for the league!
Email Sasha for more information
TGI Shabbat Dinner
Join us for a delicious, relaxing dinner immediately following the evening service. Shmooze with your Shaare Tefila community and let us do the cooking! Next date: 2/8/19